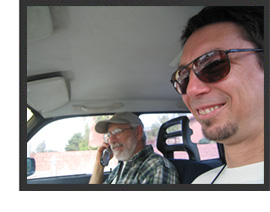 DCAT Staff

Mr. David Eisenberg, Executive Director
David Eisenberg is co-founder and Director of the Development Center for Appropriate Technology (DCAT) in Tucson, AZ. His three decades of building experience range from the on-site troubleshooting of the construction of the cover of Biosphere 2 to building a $2 million structural concrete house, a hypoallergenic structural steel house, and masonry, wood, adobe, rammed earth, and straw bale structures. For over a decade David has led the effort to create a sustainable context for building codes. He served two terms on the Board of the U.S. Green Building Council where he founded and chairs the Building Codes Committee. He was vice-chair of the ASTM E-06.71 Subcommittee on Sustainability for Buildings for five years. David has presented workshops, seminars, keynote addresses and lectures at dozens of international, national and regional conferences and lectured at universities in the U.S. and abroad. David is on the Advisory Board of Environmental Building News. He is co-author of The Straw Bale House book and has written dozens of published articles, forewords, book chapters and papers.

Anthony (Tony) Novelli, Assistant Director
Tony Novelli has been with DCAT since 1998, and has held the position of Assistant Director for over several years. His responsibilities have included the full range of DCAT activities, with a strong emphasis on operations and organizational support, and relationship building with partner organizations. He works very closely with David Eisenberg to guide all key strategy and policy matters. On a daily basis, Tony manages the organization, handling many of the official communications, guides fundraising, develops and maintains the computer systems and website, and performs most of the public outreach regarding alternative construction.

Board of Directors

David Eisenberg, Executive Director
Jeffrey LaNuez, President
Barbara Elfbrandt, Vice President
Susan Moodie, Member
Carlos Nagel, Member